Some British Players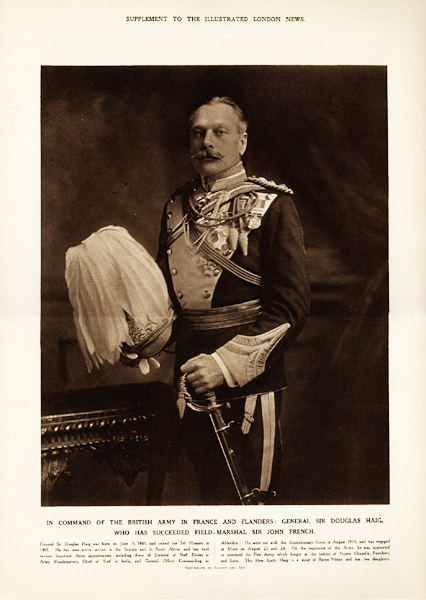 General Sir Douglas Haig (1861-1928)
Commander of the British Expeditionary Force (BEF) from December 1915 through the end of the war (and friend of Edwardian poet, Sir Henry Newbolt). Haig had the misfortune, or the blind stubbornness (it depends on which account you believe) of presiding over the disastrous bloodbaths of the Somme (1916), and Third Ypres -- Passchendaele (1917). (Click here to read the portrait's accompanying text.)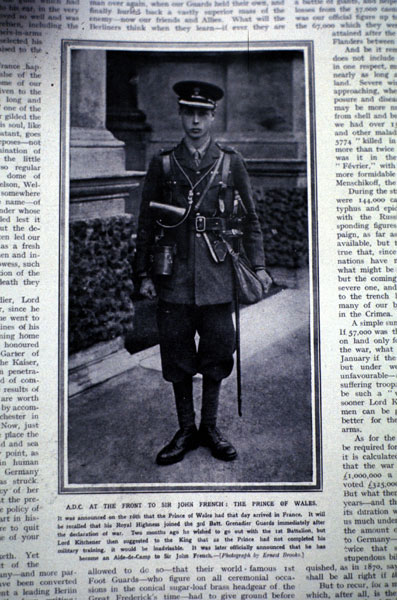 The Prince of Wales
– later to become King Edward VIII (1894-1972) -- was a contemporary of the war poets. The Prince served from 1914-1918 as an aide to General Sir John French -- who commanded the BEF for the first 16 months of the war, before losing his command (due to the disaster at Loos) to Sir Douglas Haig [above] in December 1915. This photo comes from The Illustrated London News of November 21, 1914 (click here to read the accompanying text).
The Great War effected British society as no war had before. The Prince of Wales was not the only member of the Royal Family to serve in the war, the Prince's younger brother, the Duke of York -- later to become King George VI (1895-1952) -- served in the Royal Navy and fought in the Battle of Jutland (1916). Prime Minster Harold Asquith lost a son, Raymond, at the Battle of the Somme (1916). The most popular performer of the day, singer and comic Harry Lauder, also lost a son in the war. After encouraging (and pulling strings to enable) him to enlist, Rudyard Kipling's son John was killed in 1915 (see also My Boy Jack by David Haig (1997), a contemporary drama about Kipling and the death of his son John). And the creator of Sherlock Holmes, Sir Arthur Conan Doyle, lost a son, and a brother, and a brother-in-law in the Great War.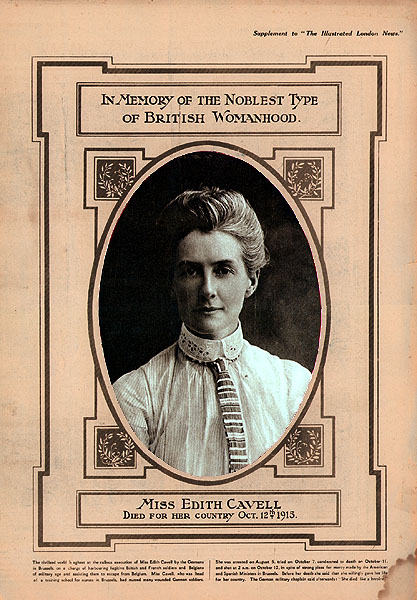 Edith Cavell (1865-1915)
Edith Cavell was the director of a nursing school in Brussels when the war broke out. True to her principles as a nurse, she treated the wounded of all sides as the Germans invaded Belgium, and the BEF attempted to turn them back. But also being true to her convictions as a Briton, she helped Allied soldiers escape who had been caught behind the lines during the retreat from Mons (1914). She was arrested, tried, condemned, and shot at dawn on October 12, 1915. (Click here to read the portrait's accompanying text.)
The execution of Edith Cavell, combined with the violation of Belgian neutrality and the harsh military law imposed on Belgian civilians, the destruction of cultural treasures such as Louvain, the initiation of chemical warfare and unrestricted submarine warfare (especially the sinking of the liner Luisitania (1915) with great loss of life -- including women and children), helped to create and support the image of the pickelhaube-sporting, bloodthirsty, Prussian Hun.