Anthem for Doomed Youth
Writers and Literature of The Great War, 1914-1918
General Sir Douglas Haig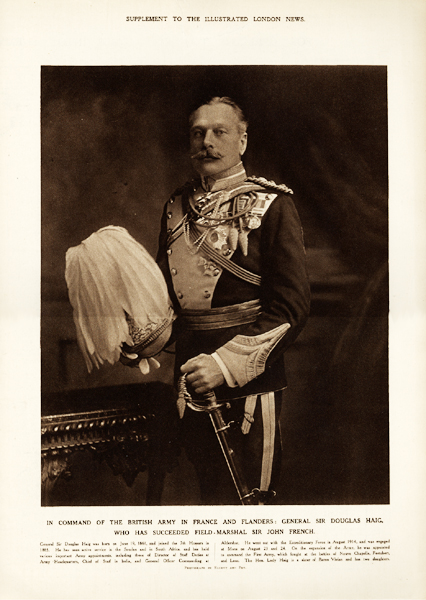 The accompanying text reads:
IN COMMAND OF THE BRITISH ARMY IN FRANCE AND FLANDERS: GENERAL SIR DOUGLAS HAIG, WHO HAS SUCCEEDED FIELD-MARSHAL SIR JOHN FRENCH.

General Sir Douglas Haig was born on June 19, 1861, and joined the 7th Hussars in 1885. He has seen active service in the Soudan and in South Africa, and has held various important Army appointments, including those of Director of Staff Duties at Army Headquarters, Chief of Staff in India, and General Officer Commanding at Aldershot. He went out with the Expeditionary Force in August 1914, and was engaged on Mons on August 23 and 24. On the expansion of the Army, he was appointed to command the First Army, which fought at the battles of Neuve Chapelle, Festubert, and Loos. The Hon. Lady Haig is a sister of Baron Vivian and has two daughters.