Anthem for Doomed Youth
Writers and Literature of The Great War, 1914-1918
EDITH CAVELL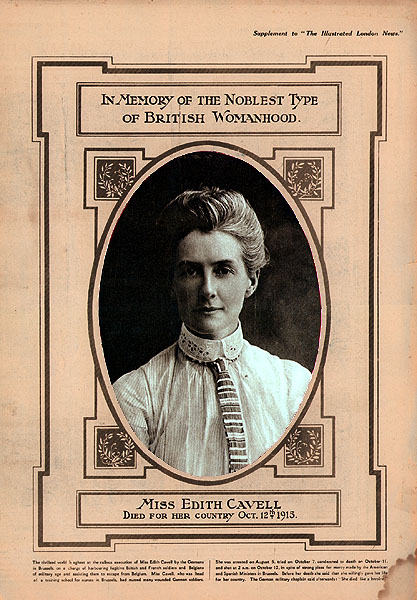 The accompanying text reads:
IN MEMORY OF THE NOBLEST TYPE OF BRITISH WOMANHOOD.

MISS EDITH CAVELL
DIED FOR HER COUNTRY OCT. 12TH 1915.

The civilised world is aghast at the callous execution of Miss Edith Cavell by the Germans in Brussells, on a charge of harbouring fugitive British and French soldiers and Belgians of military age and assisting them to escape from Belgium. Miss Cavell, who was head of a training school for nurses in Brussells, had nursed many wounded German soldiers. She was arrested on August 5 [1915], tried on October 7, condemned to death on October 11, and shot at 2 a.m. on October 12, in spite of strong pleas for mercy made by the American and Spanish Ministers in Brussells. Before her death she said that she willingly gave her life for her country. The German military chaplain said afterwards: "She died like a heroine."

An unnumbered insert appearing in the October 30, 1915 issue (vol.147, no. 3993) of the Illustrated London News.