Anthem for Doomed Youth
Writers and Literature of The Great War, 1914-1918
The Christmas Truce of 1914
The Illustrated London News of January 9, 1915: a representation of the impromptu Christmas truce of 1914 between the Germans and British on the Western Front.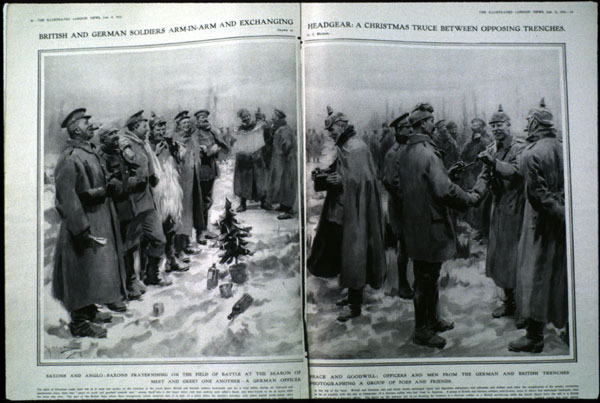 The truce was initiated by the Germans, who began singing carols in their trenches, and lifted up small, candle-lit Christmas trees, and then — after some messages hollered and tossed back and forth — slowly, carefully ventured out. (Can you image being the first man to step up out of his trench in a show of good faith?) Apparently, the fraternization was confined to German units made up of the more friendly Saxons, while the militant Prussian-German units kept on fighting.
The men exchanged food, collected and buried the dead, and as the caption to the illustration tells (click here to read the text accompanying the illustration), were even supposed to have played a soccer game (see also Michael Foreman's War Game). It's important to stress that this was a spontaneous truce between fighting units that opposed each other across 80-100 yards of No-Man's Land, and not at all something planned, or approved by higher authority. In fact, the High Command on both sides were horrified by the news, and forbid such a thing to every happen again. (To paraphrase George Carlin, if everyone in the world were introduced, how could there ever be another war?)
Some soldiers who experienced the truce, and then were lucky enough to survive the year, carried in their hearts the memory of the 1914 truce, and tried to reenact it at Christmas 1915. They were shot dead — by their own men who had strict orders to prevent them.