Anthem for Doomed Youth
Writers and Literature of The Great War, 1914-1918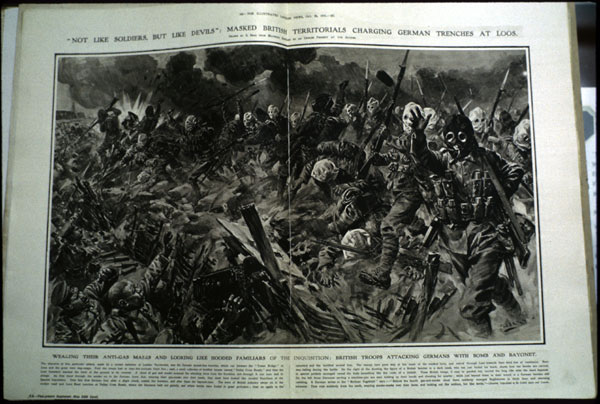 The accompanying text reads:
"NOT LIKE SOLDIERS, BUT LIKE DEVILS": MASKED BRITISH TERRITORIALS CHARGING GERMAN TRENCHES AT LOOS.
DRAWN BY S. BEGG FROM MATERIAL SUPPLIED BY AN OFFICER PRESENT AT THE ACTION

WEARING THEIR ANTI-GAS MASKS AND LOOKING LIKE HOODED FAMILIARS OF THE INQUISITION: BRITISH TROOPS ATTACKING GERMANS WITH BOMB AND BAYONET.
The objective of this particular attack, made by a certain battalion of London Territorials, was the German second-line trenches, which ran between the "Tower Bridge" of Loos and the great twin slag-heaps. First the troops had to clear the intricate front line; next, a small collection of fortified houses named "Valley Cross Roads," and then the Loos Cemetery marked the limit of the ground to be covered. A cloud of gas and smoke screened the attacking force from the Germans, but through it our men had to plunge. As they burst through the smoke on to the German front line, wearing their gas-masks over their heads, they must have looked like hooded Familiars of the Spanish Inquisition. Over this first German line, after a slight check, rushed the bombers, and after them the bayonet-men. The wave of British infantry swept on to the sunken road and Lens Road junction at Valley Cross Roads, where the Germans held out gamely, and where bombs were hurled in great profusion; then on again to the cemetery and the fortified second line. Then enemy here gave way at the onset of the masked force, and retired through Loos towards their third line of resistance. Rain was falling during the battle. On the right of the drawing the figure of a British bomber in a dark mask, who has just hurled his bomb, shows how the bombs are carried, in special pockets arranged round the body something like the corks of a life belt. These British troops, it may be pointed out, carried the long rifle with the short bayonet. On the left three Germans serving a machine gun are seen holding up their hands and shouting for quarter; while just beyond them in their trench a German bomber still resisting. A German writer in the "Berliner Tageblatt" says:-"Behind the fourth gas-and-smoke cloud there suddenly emerged Englishmen in thick lines and storming columns. They rose suddenly from the earth, wearing smoke-masks over their faces, and looking not like soldiers but like devils."- [Drawing Copyrighted in the United States and Canada].