Anthem for Doomed Youth
Writers and Literature of The Great War, 1914-1918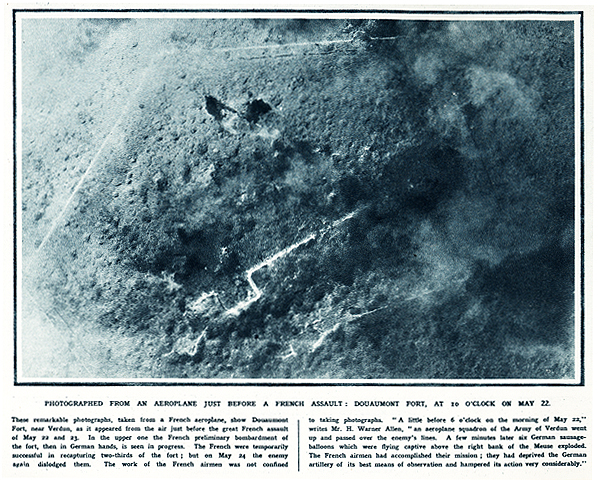 The accompanying text reads:
PHOTOGRAPHED FROM AN AEROPLANE JUST BEFORE A FRENCH ASSAULT: DOUAUMONT FORT, AT 10 O'CLOCK ON MAY 22.

These remarkable photographs, taken from a French aeroplane, show Douaumont Fort, near Verdun, as it appeared from the air just before the great French assault of May 22 & 23. In the upper one the French preliminary bombardment of the fort, then in German hands, is seen in progress. The French were temporarily successful in recapturing two-thirds of the fort; but on May 24 the enemy again dislodge them. The work of the French airmen was not confined to taking photographs. "A little before 6 o'clock on the morning of May 22," writes Mr. H. Werner Allen, "an aeroplane squadron of the Army of Verdun went up and passed over the enemy's lines. A few minutes later six German sausage balloons which were flying captive above the right bank of the Meuse exploded. The French airmen had accomplish their mission; they had deprived the German artillery of its best means of observation and hampered its action very considerably."