Following V-E Day, Lt. General Bradley issued orders dealing with German-American Relations. Leo J. Ryan states that the men did not consider the order against fraternizing with Germans to extend to children. While in Nuremberg, Ryan befriended a little German girl — Hildegarde. Ryan describes the last time he saw Hildegarde before leaving for France. She came running towards him while he was standing at review and gave him a small present.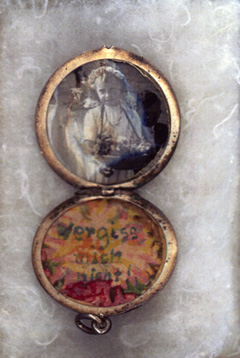 "Hildegarde." Courtesy of Leo J. Ryan. 1945.
I unwrapped the little package. It held a small box, and within the box was a locket made of morel. On the outside of the locket was a horseshoe. That was nice; I could use some luck.
When I opened the locket, I got a lump in my throat. It held a picture of Hildegarde in [a] white dress with flowers braided into her golden hair. Opposite the picture were three words – Vergis mich nicht – don't forget me.
The locket is in the drawer of the lamp table next to my bed. It's not a war memento and has nothing to do with the war. But with her picture and those words, a moment in time was captured that belongs to us both.
Danke, Hildegarde, danke!