La Bete est Morte! La Guerre Mondiale Chez les Animaux, was written by Victor Dancette and Jacques Zimmerman and illustrated by Calvo. The first of a two volume set published after World War II, this children's book details a grandfather's account of how he lost his leg in the war. Animals represent the warring nations: the French were rabbits, Germans naturally were wolves with Hitler being the head wolf, Great Britain was a bulldog, Italy was a hyena in wolf's clothing, and bison represented the United States. Those familiar with these animals were able to discern increased meaning in the tale told by the grandfather rabbit.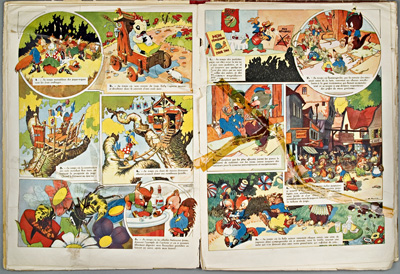 La Bete est Morte! La Guerre Mondiale Chez les Animaux
Dancette, Victor and Jacques Zimmerman. Illustrations by Calvo. Paris: 1945.
Talking about the occupation of France by the Germans, or the rabbits by the wolves, the grandfather rabbit recounts:
It was then when everything broke down around us, when all was lost, when
everything seemed finished, that we felt rise within us the invincible belief in the destiny of our country. Everything, however, seemed to contribute to our enslavement and our disappearance. One and a half million of our own were taken into slavery. Our entire land was defiled by the Barbarians. We could do nothing but submit ourselves to this brutal force that had struck us, but we felt our souls reborn from the ashes, and already we felt we could sustain everything, to suffer all so that one day we could live again in our beautiful motherland. I know some, among the most proud, who fell to their knees on this ground that they were going to leave as exiles and their lips rediscovered the prayers of their childhood imploring the God they had neglected for years.