 Introduction
Utah County boasts a young, healthy, well-educated population, low crime rate, and a solid economy. Overflowing with breathtaking scenery, it's an adventurer's playground, a sportsman's paradise. Green Jell-O and family activities abound. In fact, Lehi and Orem ranked second and third, respectively, on a national list of safest cities for kids to go trick-or-treating. Yes, people do seem to be genuinely happy here in Happy Valley.
Our county has a fascinating history as well as a bright future. From Timpanogos ski trails to railroad tracks, from blossoming fruit orchards to world-class education, this county is the happy home to an ever-increasing population. We're proud of our heritage and what we can learn from it. What role will you play in this legacy of history?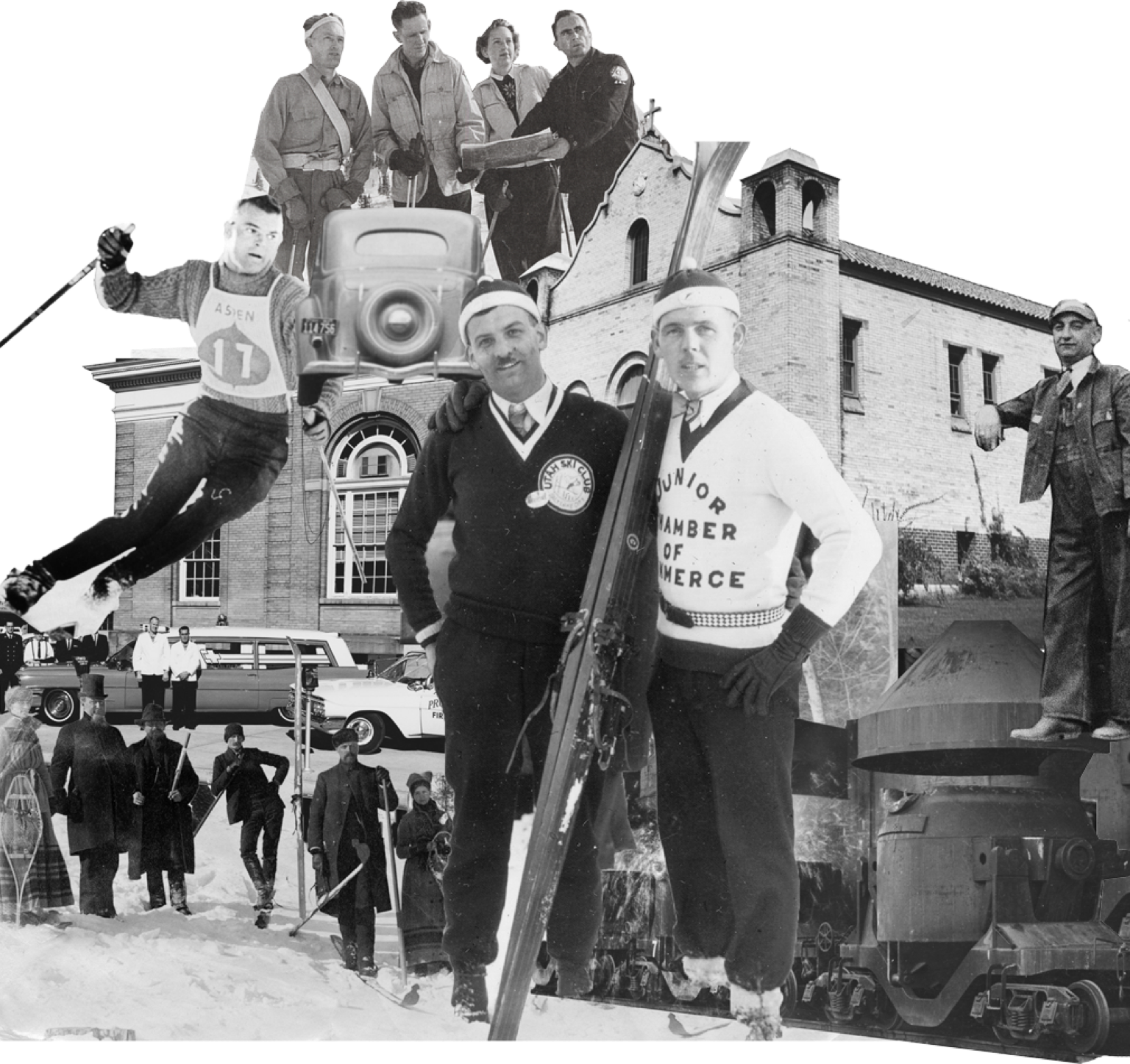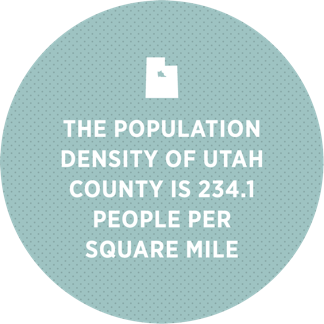 …See the efforts they are making
To subdue the desert land,
See the temple they are rearing,
To fulfill the Lord's command.
Oft our thoughts in silence wander,
To that Valley in the west
Oft we speak to one another,
Of that happy day of rest.
When we with other Saints will gather
To that place of safe retreat,
Meet our friends, and in our gladness
Shout aloud, with joy complete.
A.N. MacFarlane, "The Happy Valley," The Latter-Day Saints' Millennial Star 29 no. 10 (1867 Mar 09):160 Lifestyle
The 1930s and 1940s saw tremendous environmental, social, economic, and cultural transformation in Utah County. Overgrazing, wildfire damage, and development in the foothills of the Wasatch Mountains led to flooding and soil erosion. Growth along the Wasatch Front, together with the introduction of new industry and business, altered the fabric of Utah County. In certain areas, farmland gave way to urban, business, and industrial development—a process that continues to this day. Young men who lived in camps during the Great Depression labored to build campgrounds, roads, and terraces to prevent soil erosion. Residents of Utah County took work seriously, but recreation was also important in the balance of life. North Fork, Mt. Timpanogos, and Aspen Grove were frequent recreational destinations, especially the Timp Haven ski area (now the Sundance Mountain Resort). Altogether, these images and artifacts showcase the forces of settlement and development that have made the Utah County landscape what it is today.
Gallery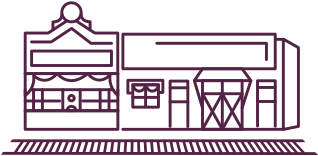 Transportation
Ever since the Union Pacific and Central Pacific railroads met at Promontory Summit on 10 May 1869, railroads have also been an important part of Utah's heritage. In addition to the freight lines and spurs, commuter lines gradually gained popularity. Simon Bamberger and his son Julian Bamberger built lines extending from Salt Lake to resort destinations, like Lagoon and Saltair. In Ogden, David Eccles created the Ogden Rapid Transit Company to offer some competition. In Utah Valley, fruit promoters from the Provo Bench Commercial Club recruited Walter C. Orem, president of the Salt Lake and Utah Electric Interurban Railroad to construct an "Orem Line" extending from Salt Lake City to Payson to help market their fruit. As an incentive for the railroad owner, they renamed the Provo Bench in his honor, after officially incorporating as the town of Orem in 1919. Soon, train loads of fruit bearing the Orem name traveled on Walter Orem's railroad and soon earned the area the nickname of Garden City of Utah.
Gallery Higher Education
The Utah County region has a strong educational history, and is home to both Brigham Young University in Provo and Orem's Utah Valley University. These two schools, developing in different eras and with differing missions, have provided valuable training for Utah County residents for 140 years.
Brigham Young University
Established in frontier Provo in 1875 as Brigham Young Academy, the school has grown and developed alongside the surrounding community. Initially formed by Brigham Young in response to rising secular and sectarian influences, under Principal Karl G. Maeser the Academy provided primary and secondary education as well as acting as a teacher training school. Then in 1903, at the request of Maeser's successor, Benjamin Cluff, Jr., the Board of Trustees changed the name of the institution to Brigham Young University. During the 20th Century the university has continued to grow, constructing new buildings, expanding its student body, developing new programs, and improving its services. Yet despite the changes, the university has remained committed to Brigham Young's original vision—to provide an education that is "spiritually strengthening, intellectually enlarging, character building, and leading to lifelong learning and service."
Gallery
Utah Valley University
Utah Valley University has undergone quite a few changes over the past seventy five years. Night classes at various places in Utah County under the auspices of the Alpine, Provo, and Nebo school districts began in 1937. Established in September 1941 through National Defense funds to provide specialized and technical training, Central Utah Vocational School was one of only two Utah schools devoted solely to vocational curriculum in Trade, Industry, Business, and Distributive Education. The school began operation under humble beginnings, renting this house on 134 South 300 West in Provo for its central office and its main operations at the abandoned Civilian Conservation Corps barracks that had comprised the Rock Canyon Camp at the Utah Country Fairgrounds at 1100 South University Avenue in Provo. Consider the different names it has been known by: Central Utah Vocational School (CUVS, 1941); Utah Trade Technical Institute (UTTI, 1963); Utah Technical College (UTC, 1967); Utah Valley Community College, (UVCC, 1987); Utah Valley State College (UVSC, 1993); and, Utah Valley University (UVU, 2008). Low tuition and flexible schedules made it an economical choice for a practical education. An early school slogan proclaimed "It pays to be skilled." (Courtesy of George Sutherlund Archives, Utah Valley University.)
Gallery Tabernacle
At the heart of Provo, a city block at University Avenue and Center Street became known as Tabernacle Block. Just like Salt Lake City's Temple Square 45 miles to the north, Provo's Tabernacle Block became the religious, civic and cultural heart of Provo and Utah County from the 1860s to the present day.
Utah Stake's first meeting house or tabernacle was built on this site in 1867. This building would serve as a religious and civic gathering place for all of the wards in the stake which encompassed the entire valley. The tabernacle immediately became too small for the growing population, however, and a second larger tabernacle was built just south and east of the smaller or Old Tabernacle, dedicated in 1898. In 1875 a baptistery was also built on the tabernacle block's southwest side which afforded privacy and comfort for baptisms which were previously performed in an outdoor stream.
The larger tabernacle which became known as the Provo Tabernacle was used continually until it was nearly destroyed by fire in December of 2010. A deep sense of loss was felt by the community for the next year until Thomas S. Monson, president of the Church of Jesus Christ of Latter-day Saints, announced that the Tabernacle would be rebuilt, not as a tabernacle but as a temple. From the crucible of fire and out of the tabernacle's ashes arose Provo's second temple, to be called the Provo City Center Temple. The heart of Provo previously known as Tabernacle Block became a Temple Block.
Gallery